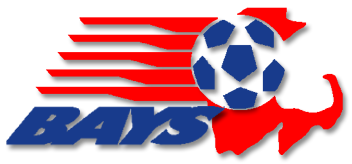 FALL 2023 AND SPRING 2024 SEASONS
To BAYS Club Officials Parents, Spectators and Coaches:
Coaches, parents, spectators and referees are reminded that the Laws of the Game, as adopted by the International Football Association Board (IFAB), are to be followed in all BAYS games unless otherwise specified in these playing rules. The Laws of the Game can be found in the 2022/2023 IFAB Laws of the Game as adopted by FIFA. It is recommended that you download the IFAB Laws of the Game app on your smartphone. It is free and available in the App Store or in Google Play. 
If you have any comments or suggestions regarding either the substance of the rules or the format of this rulebook, please forward them to your town's representative on the BAYS Board of Directors, and we will be glad to discuss them.
Click here for a Game Rule Summary Chart for Coaches, Parents, and Referees