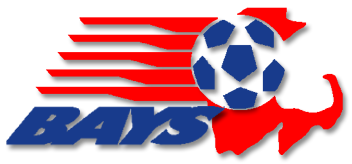 FALL 2020 AND SPRING 2021 SEASONS
To Team Coaches, Team Managers, and Referees:
The BAYS rulebook provides team officials and referees with the information you are most likely to need out on the pitch. Please keep this book for use this fall and next spring. The BAYS website (www.bays.org) is the place to look for team schedules, field maps, contact information for coaches and league officials, and rules changes adopted after the publication of this book.
Coaches and referees are reminded that the Laws of the Game, as adopted by the International Football Association Board, are to be followed in all BAYS games unless otherwise specified in these playing rules. The current Laws of the Game can be found in the 2019/2020 IFAB Laws of the Game as adopted by FIFA. It is recommended that you download the IFAB Laws of the Game app on your smart phone. It is free and available in the App Store or in Google Play. 
If you have any comments or suggestions regarding either the substance of the rules or the format of this rulebook, please forward them to your town's representative on the BAYS Board of Directors, and we will be glad to discuss them.
Age group

Grade 12 D1&D2
(Spring Only)

Grade 11 D1&D2
(Spring Only)

U-HS
(Grades 9-12)

Grade 8

Grade
5 & 6

Grade
3 & 4

Number of players

11v11

11v11

7v7

11v11

9v9

7v7

Minimum # to start game

7

8

6

8

7

6

Minimum # to continue play

7

7

5

7

6

5

Length of half (minutes)

45

40

30

35

30

30

Ball size

5

5

5

5

4

4

Offside rule?

Yes

Yes

No

Yes

Yes

No

Penalty kick distance (yds)

12

12

12

12

10

8