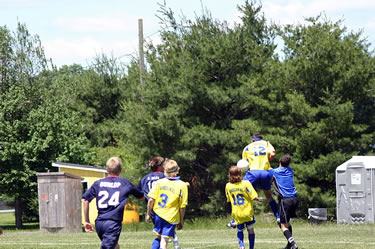 The BAYS Code of Conduct should be taken very seriously. Your teams should know them, following them, and represent themselves as young athletes during practice, official team activities, and official game play.
Follow the Code
Play to win.
Play fair.
Observe the laws of the game.
Respect opponents, teammates, referees, officials and spectators.
Accept defeat with dignity.
Promote the interests of football.
Reject corruption, drugs, racism, violence and other dangers to our sport. Football's huge popularity sometimes makes it vulnerable to negative outside interests.
Help others to resist corrupting pressures.
Denounce those who attempt to discredit our sport.
Honor those who defend football's good reputation.
The following seven points were composed by the children of the Collège Henri Matisse in Choisy-le-Roi, France, and is addressed to the players of the World Cup in France. This Charter was read for the first time at the opening ceremony of France 98.
"You, who will play for the World Cup make us dream by playing fair and let the game rhyme with peace. Play strictly by the rules and make your supporters happy. Do not contest the referee and show us your fairness. Respect your adversaries as well as your partners and leave your bad temper outside the football pitch. Do not behave violently. Make sure you never lose your self-control. Admit you are defeated after doing your best and celebrate your victory fairly. Make us dream by showing us your solidarity so that our dreams will come true."