Spring 2017 - A New Website
Boston Area Youth Soccer League is pleased to announce our new and updated website. It was our goal to create a more intuitive web site that can easily be used on all devices. As we start the registration process, Club Registrars are the first to use the site. During this time we will provide you with instructions as you go.  
New Site Login Process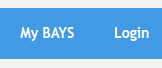 Click on the Login button to get started.